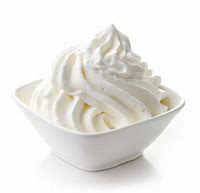 Yields:

4 Servings
Difficulty:

Easy
Prep Time:

10 Mins
The Chantilly cream is one of the most used cream as a filling or topping for any kind of cake, pastries or ice cream all around the world. It is a popular cream as it is soft, aerated, light in texture and full of rich vanilla flavour. It is recognized as one of the most, if not the most popular sweet cream in the world.
The invention of Chantilly whipped cream is often attributed to the great French chef  Francois Vatel who worked in the kitchens of the Château de Chantilly.  In April 1671 he was commissioned to organise a party for the Duc de Condé, owner of Chantilly, and his cousin Louis XIV at the Chateau. The party lasted 2 days, sumptuous meals were served, illuminations, hunting and lavish entertainment were organised.
Adjust Servings
this is for 400 ml of cream as i used to fill my vanilla and berry naked cake
Whipped Chantilly cream

Measure all your ingredients... (sift the icing sugar) it is better to place your bowl in the fridge for 10 minutes. Place the heavy cream or whipped cream in a large bowl... You can do it by hand too it takes 5 more minutes... so no excuses.

Add the sift icing sugar.

Add the vanilla Essence.

add the whisk and whip away at high speed. it should take 4 to 6 minutes for this quantity.

Do not walk away and keep looking a the cream 30 seconds too long and it can become like butter. This how we make butter without the sugar and essence... I will probably show you how one day.

Whisk the cream until soft pick. enough to hold large picks without falling of the whisk.

Reserve in the fridge until needed or like me put it straight away in a piping bag. with a nozzle.
Notes
do not over beat the cream as it will turn to butter. However if you do so, keep beating and you will have a nice sweet butter to make your toast with.
Here i used a good quality vanilla essence... vanilla paste is a better option. A fresh, cut in halves and scrapped vanilla pod would be the best option.
If you can't remember how much sugar for the cream, it is easy, always 10% of icing sugar for the amount of cream.
Make sure the cream and your bowl is very cold
You can keep the cream for up to 3 days covered in the fridge but it will loose its volume.