Warning
: Attempt to read property "html" on bool in
/var/www/wp-content/plugins/blossom-recipe-maker/includes/class-blossom-recipe-hook-functions.php
on line
302
Warning
: Attempt to read property "thumbnail_url" on bool in
/var/www/wp-content/plugins/blossom-recipe-maker/includes/class-blossom-recipe-hook-functions.php
on line
303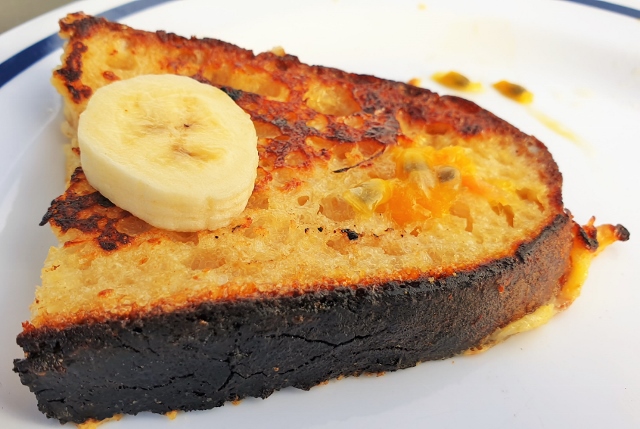 Yields:

4 Servings
Difficulty:

Easy
Prep Time:

10 Mins
Cook Time:

5 Mins
Total Time:

15 Mins
Hello Foodies,
This week recipe is about an old recipe and a very easy one: The French Toast or as we call it "Pain Perdu". It does mean literally Lost Bread.
This recipe has been made over centuries. It was first discovered in Apicius letters in the 4th century.  Pain perdu is still very popular on menus for breakfast items. Often made on fresh white bread or brioche. However, this is a tip for my fellow travellers on the road, campers, nature lovers who go cooking in the "bush". Don't ever throw it to the birds anymore, this recipe is a feast for your tummy.
The "Pain perdu" reminds me a lot of my childhood memories.  My parents were good cooks and try to never waste any food items. As you know French people love their bread and hate wasting it ahahaha. Growing up my dad introduced me to the "French toast".  He said "we cannot just throw bread; it is a staple and it is money given to the birds". I replied "but dad It is getting hard and stale". He said "let me show you what you can do with it".
This was the first time I remembered eating French toast and it was the best thing on earth for me at the age of 4.
I must say my first impression was " hmmm not bad" i was in the heart of Margaret river in WA when i had my first bite of this cake… After opening my own shop i though, i must have that for sale so i may as well have the best one in town.
So, there it is for you, made with my left-over stale sourdough bread. French toast by Frenchy.
Happy cooking wherever you are.
Frenchy.
Gather all your ingredients and get your burner going.

Crack open your eggs in a large clean bowl.

Add the sugar (80g) is about 4 large soup spoon.

Add the milk. 1/10 of a 2 liter bottle.

Add a good dash of vanilla essence.

Fork it (beat it) for 1 minute. Use a whisk if you have one

Slice your old or fresh bread to 2 cm thick slice. if too long like here slice them in half again.

Nice and thick slices, like so.

Dunk all slices in the sweet egg mixture, and let it soak for 1 minute.

Meanwhile heat up the pan and add some butter.

Cook on one side for 2 minutes.

Then flip it on the other side and cook for another 2 minutes.

Check to get the caramelisation you like... :)

Dish up the French toast onto a plate and add some slice banana.

Squish some fresh passion fruit onto the toasts.

Simple and delicious.

Get out there and cook in the Bush.