Warning
: Attempt to read property "html" on bool in
/var/www/wp-content/plugins/blossom-recipe-maker/includes/class-blossom-recipe-hook-functions.php
on line
302
Warning
: Attempt to read property "thumbnail_url" on bool in
/var/www/wp-content/plugins/blossom-recipe-maker/includes/class-blossom-recipe-hook-functions.php
on line
303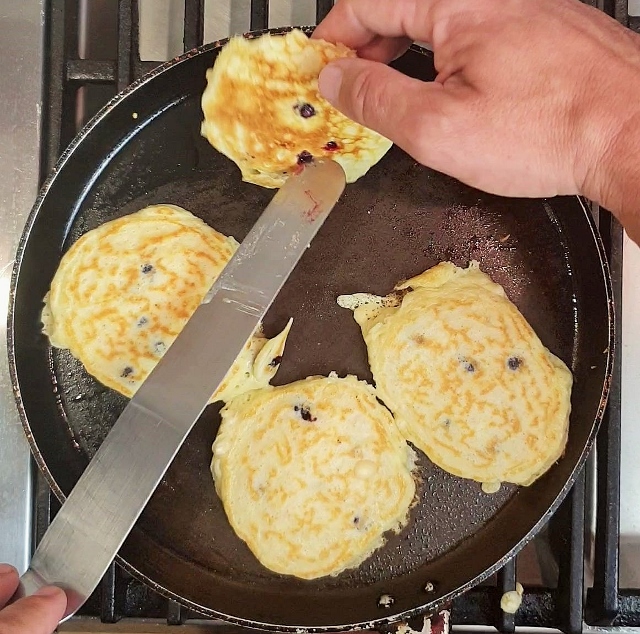 Yields:

2 Servings
Difficulty:

Easy
Prep Time:

15 Mins
Cook Time:

5 Mins
Total Time:

20 Mins
Hello Foodies,
I hope this recipe find you well.
This week's recipe is all about a very popular item that is in most breakfast menu in many cafés across the globe, surely all over Australia. The Famous Pancakes, had grown to be a very popular items amongst people, whether you are a kid or a growing up.
This recipe is easily adapted for people who can't have gluten anymore or can not have much of it. Nowadays, we can find amazing gluten free flours that are suitable for the productions of cakes or desserts items. This pancake recipe is gluten free, high protein and no processed sugar. However, i added a bit of honey from "South West Honey" in Western Australia, a beautiful red gum honey. I have also added some Greek yoghurt a little beat of icing sugar and rosemary flowers.
I hope you enjoy it as much as I did. The recipe is made for four people, but you can easily double it up cook it all and keep them, covered, for few days in the fridge.
Measure and get all your ingredients together. Every time you are getting into baking or sweet recipes please use a scale.. it will then always work and avoid many disappointments.

Place the gluten free flour in a clean bowl.

Add the oats and mix it together quickly.

Gradually add the milk. Pour a 1/3 of the milk in the center and start mixing with a whisk... The key to avoid lump is to barely move the whisk to its original position and keep mixing slowly .. (As the liquid grab the dry item the batter will form.)

Mix gently

Add more milk and repeat the process until all the milk is combined.

Mix gently.

as you feel the batter getting heavier and thicker, add 1 egg.

Mix it thoroughly.

Add the second egg.

Mix it well.

add half your berries and mix them well.

You can also try to crush some.

Voila your pancake batter is ready and you do not need to wait to cook some.

Using a non stick pan, melt a bit of coconut oil or any fat you like. Deposit 2 table spoon of batter and give a bout 4 cm space between the pancakes as they do spread a bit.

Cook them for a minute on each side on moderate heat.. Here i used a 28 cm pan on my biggest burner. Warmed up my pan for 3 minutes on high heat and reduce the gas to half way.. This is what i cal moderate heat in that instance.

After 1 minute flip them gently.

Cook for another minute and they should be ready.

Check one if they are cook in the middle and if you like them :)

Stack them on a plate.

Add some honey if you like or maple syrup.

Here i added some Greek yogurt.

More berries

A quick touch of icing sugar

And voila, ready to be enjoyed.... Bon Appetit Frenchy
Notes
Give it a try ...
Change to any fruit you like ... Or totally omit them...
This is a nice recipe to get your day started the way you want it :)