Warning
: Attempt to read property "html" on bool in
/var/www/wp-content/plugins/blossom-recipe-maker/includes/class-blossom-recipe-hook-functions.php
on line
302
Warning
: Attempt to read property "thumbnail_url" on bool in
/var/www/wp-content/plugins/blossom-recipe-maker/includes/class-blossom-recipe-hook-functions.php
on line
303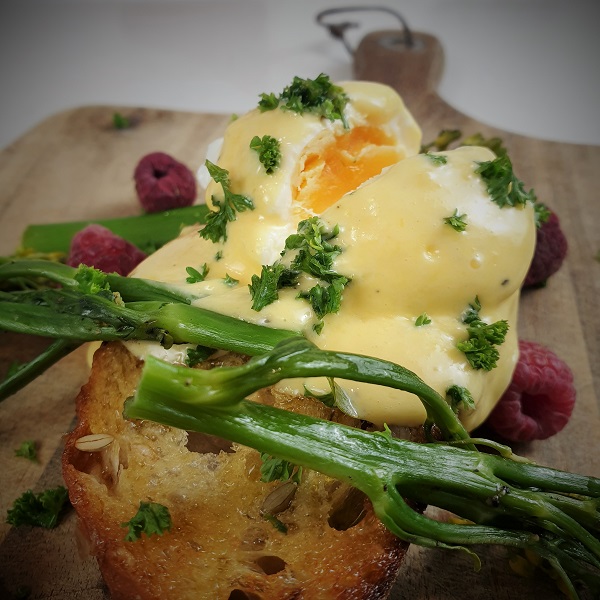 Yields:

4 Servings
Difficulty:

Medium
Prep Time:

10 Mins
Cook Time:

10 Mins
Total Time:

20 Mins
The hollandaise sauce is one of the popular sauces in the list of famous sauces across the world. It takes top of the chart in the best sauces in the world. It is a warm emulsified sauce that translate from the French and means Dutch Sauce.
According to the Larousse gastronomique, the Hollandaise sauce basically is made up of emulsion of certain items like egg yolk, water, lemon, liquid (clarified) butter.
Hollandaise Sauce is a Dutch origin sauce which a base for many other sauces as well. The derivatives you can often encounter are "Mousseline, Maltaise, Mikado or Moutard".  If you heard of the top French Mother Sauces then Hollandaise Sauce comes within the top 5. Therefore, you can appreciate its popularity in the world of Saucier (sauce-chef)
Hollandaise sauce perfectly pairs with poached fish, vegetables and eggs (eggs benedict). Yet, have you ever tried to make your own? Professional chefs will tell you that is one of the hardest sauces to make such as the "Béarnaise" or the "Mayonnaise", but with few tips from me you will have a successful experience.
Tune in to the video below and my step by step recipe to find out exactly how you can make the easiest Hollandaise sauce. it's actually easier to make than you would think. I like my hollandaise to be thick so i cook my sabayon to the max… Meaning just before the egg yolks are fully cooked and become grainy… It allows me to add more juice or other ingredients to give it a twist and water if need be.
Main Ingredients

As usual .... Mise en place "get ready" by gathering all your ingredients.

Clarifying the butter

chopped your butter in large cubes

Place it in a plastic container

Put it in the microwave for 30 seconds.

Check it. Do not stir it and melt it for another 30 seconds.

Take the butter out and let it cool and settle down for 2 minutes. As you see the fat comes up and the little cream or "buttermilk" stays at the bottom... This is what we exactly want .. separate both.. The sauce becomes a little more unstable with the buttermilk .. So often professional chef prefer removing it.

Take another container.

slowly poor the fat into the clean container

do it slowly with a gentle flow for 30 seconds or until you see the buttermilk appearing.. If a little bit of buttermilk went in do not panic .. Leave it there.

and Voila you just made Clarified butter, your own GHEE.... well done .. Ghee is predominant in cooking or Indian cooking.. It has a higher heat threshold and does not burnt as butter do Because in fact tit is the buttercream that is burning.

The Sabayon

Grab a clean stainless steal (heatproof) bowl.

your 2 eggs.

Clarified the eggs.. it s a recipe of clarification ahahahaha , separate the with the the yolks Place the yolks in the bowl.

Add a bit of water.

Cut half a lemon.

collect the juice of the lemon.

Add the lemon juice to the yolks and water.

Mix for 5 seconds.

Prepare the Bain-Marie and cook the Sabayon

Fill up a dip sauce pan half way.

Bring it to boiling point and shut the gas off.

add your bowl over the pan, sitting on it and whisk vigorously.... from left to right, right to left or like the Pros do a figure of 8 with your whisk. just keep it on top for 20 seconds.

check it out if your eggs looks thick (coagulated) like in this shot, it is done and ready.

Montee la sauce- Emulsifying the sauce-making the sauce

Make sure your butter is not too cold or too hot... Too cold its OK but will seize quickly.. too hot the sauce may split or separate... Touch the container it should feel warm but not burnig the palm of your hand. As per the Mayonnaise, add a little bit of butter and whisk it in... The equivalent of a soup spoon...

add more and whisk in.

add a little more until the sauce is becoming thick and stable.

finish the butter.. Always add a little at the time and whisk to keep the sauce stable and avoid splitting (if it does check my tip at the bottom of the recipe)

SEason with salt and pepper.. Check your seasoning... TASTE it ...

Add more water or lemon juice or seasoning and voila you have made a hollandaise sauce .... Bravo, Bravo , Bravo

Quick idea for breakfast or brunch

Add a cap of vinegar to the boiling water

stop the water from boiling

Poached an egg for 2 minutes.

blanch some broccolini, asparagus or broccoli here i toasted a bit of seeded sourdough.

few berries

And Voila ready to eat with pleasure.. It is a great way to start the day... Bon Appetit Frenchy
Notes
Tips:
1- always do it over a bain marie and make sure the water is not boiling anymore.
2- if you like your hollandaise sauce to be more runny add more water either at the end or the beginning
3- If you want it to be more lemony add more juice
4- If you can not be bothered with clarifying your butter just get some Ghee... Once upon a time they used to just melt the butter.
5-Make sure the butter is not too hot when you had it. if you touch the container it should feel hot to the palm of your hand but not a burning feeling or cold...
6- Its a sauce to use straight away and can not be reheated
7- it is a sauce you should only keep warm over bain-marie at 140°F or 60°C for 1.5 hours.
8-If it start to split or separate it means its too hot. Add a soup spoon of cold water and whisk.. if it still split ... do not throw it away. Take a new clean bowl, re do the sabayon with one egg yolk  and water then add slowly again the split mixture as shown and it will work...