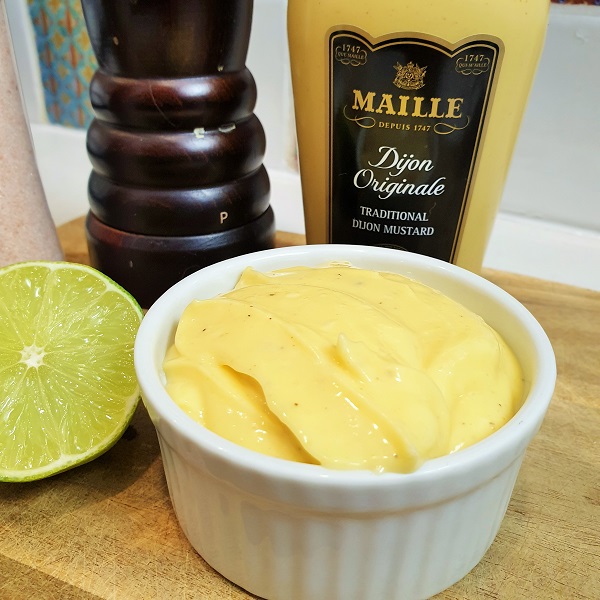 Mayonnaise is part of the basic sauce of the French repertoire. it is easy to make following few simple steps… From it you can create many derivatives sauces such as, Tartare, aioli, anchovies, truffle, cocktail, rouille……. Ideal to use as a dipping sauce or a dressing for your salads, potato and rice salads.
The Mayonnaise is reported to be invented Porte Mahon by the duc de Richelieu the 28 of June 1756 near Paris.
The mayonnaise is an cold emulsified sauce. It means that it raise in volume through the action of mixing egg yolk and oil. The basic mayonnaise contains, egg yolks, vegetable oil, mustard, vinegar, salt and pepper. This why we call it a basic sauce. From it you can have many derivatives sauce such as Aioli, Tartare and cocktail sauce for the most well known.
Mayonnaise is easy to make if you just take few precautions:
Click on the link below to access the full printable recipe
Tips:
1-Make sure that all your ingredients are at the same temperature. preferably room temperature as no one keeps the oil in the fridge
If your eggs are cold just separate them and mix them with the mustard for few seconds and leave them on the bench to get to room temperature.
2- Add the oil a tiny beat at the time specially if you do it by hand, the equivalent of a soup spoon at the time.
3- Incorporate the oil slowly and gently until its all in. The more oil you put the harder will become the mayonnaise.
4-Season at the end and taste.. Unbalanced seasoning will result on your mayonnaise tasting oily.
Happy whisking everyone,
Frenchy