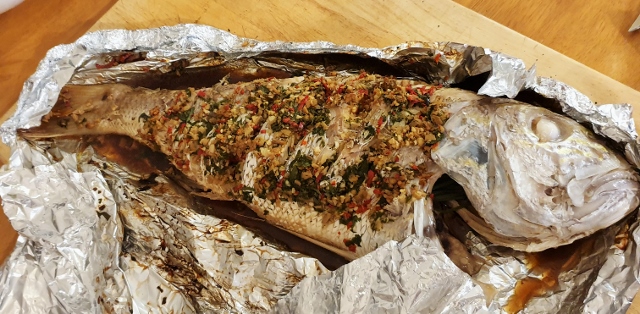 Hello foodies,
We all know the health benefits of eating fish, especially oily fish. Fish is among the healthiest foods on the planet. It's loaded with important nutrients, such as protein and vitamin D. Fish is also a great source of omega-3 fatty acids, which are incredibly important for your body and brain.
This recipe is using a whole gold band snapper of 2.250 Kg. Cooking a whole fish on the bone is another experience and means you do not have much to do to prepare it. You do not need to know how to fillet it and likely to waste some of the fish.
To access the full step by step recipe and ingredients, please click on the link below:
The Papillote "Principle of cooking":
Here, I am using a technique, "la papillote" to cook the fish. This Method allows the fish to cook in its own steam and juices, which make the fish so tender, moist and so flavoursome. "La papillote", is literally cooking in a packet. This one of those rare techniques that's flashy enough to be done at fancy restaurants (Michelin stars) and works beautifully at home, too. The basic method involves wrapping food in individual parchment or foil packets and baking them in a hot oven.
The flavours inside mingle and intensify as the food cooks in its own steam. When the packets are opened, usually at the table for a touch of dinnertime drama, you have a perfectly cooked dish, bathed in a sauce that's the very essence of the flavourings you've included in your papillote. The method is very easy and there's the whole fun factor of serving something that's all wrapped up like a surprise.
More about the Gold band snapper:
Why do we call it Goldband?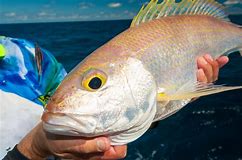 Goldband snapper is a tropical species caught in a number of different fisheries in NT, WA and QLD. He has distinct gold marks through his skin.
The stock status of goldband snapper in eastern QLD is uncertain due to insufficient information on its abundance. This is a relatively long-lived species that is vulnerable to the effects of fishing.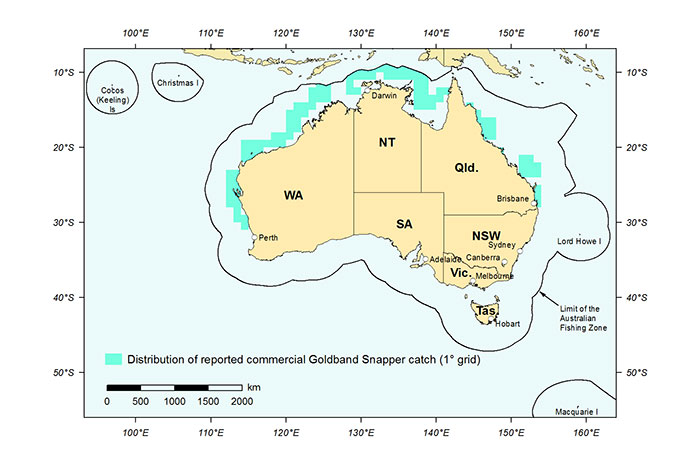 In WA, Goldband snapper stocks are assessed regularly and are either rebuilding or in sustainable condition
The gold band snapper, generally cost around $55.00/kg as a fillet or portioned. As the whole fish it cost $25.00 per kilo. Knowing that you only waste 20% of the fish through the weight of the head and bone, you are better off buying the whole fish.
You could easily replace the snapper for another fish and the Asian flavours with just white wine, shallots and leek if you wanted something more French influenced.
As a guide line I cook the fish in a very hot weber or oven 10-12 minutes per 500g (a pound) of whole fish.
Let's get cooking
Bon Appetit
Frenchy