Warning
: Attempt to read property "html" on bool in
/var/www/wp-content/plugins/blossom-recipe-maker/includes/class-blossom-recipe-hook-functions.php
on line
302
Warning
: Attempt to read property "thumbnail_url" on bool in
/var/www/wp-content/plugins/blossom-recipe-maker/includes/class-blossom-recipe-hook-functions.php
on line
303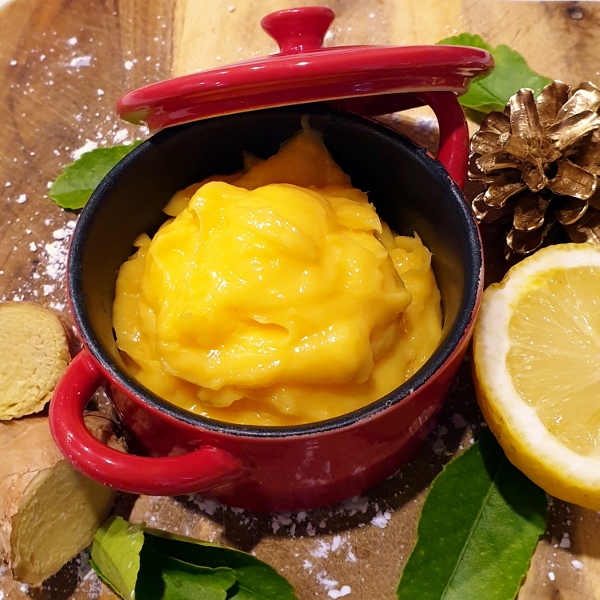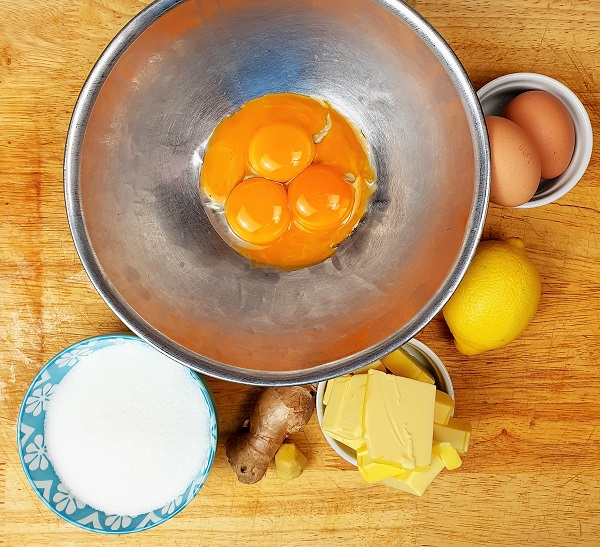 Yields:

8 Servings
Difficulty:

Easy
Prep Time:

10 Mins
Cook Time:

10 Mins
Total Time:

20 Mins
The curd, one of the most delicious items invented in pastry. It is a popular item often seen on a cover magazine all across the world. Why? Because it is simply delicious.
The curd is easy to make and it will take your sweet or desserts to another level. Often make out of butter and citrus fruits it helps pastry chef to balance a dessert that is to sweet and cut the sweetness through acidity.
Being from France I was not expose to a "curd". It is not something that French pastry chef often used in cakes. Since I leave in Australia I came to learn about this beautiful filling and use it now for my latest creation the "Pavlobuche". More so, for my pie "Lemon and ginger meringue pie".
Adjust Servings
Making the lemon & ginger Curd
Gather your ingredients.. use a good scale. You can freeze the egg whites for later use.

Peel your ginger and get the rind of one lemon.

Here I am using a small grater. You can also use a microplane.

Cut your lemons in halves.

Extract the juice. Depending if the size of the lemons you may need to use 2 to 4 lemons

Chopped finely the ginger.

Pressing the blade against the ginger will make it like a Puree.

Grab your saucepan

Add the lemon juice and sugar.

Add the lemon rind and ginger puree

Add the egg yolks

Add the whole eggs

Mix everything together.

Mix very well for 1 minute

Take the sauce pan to a low heat. and whisk gently continuously until the sugar is totally dissolved.

after 3 minutes, add some butter and mix as it is melting.

Add more butter and keep mixing.

Add the remaining butter and keep whisking

As the temperature raise the mixture should start to thicken. Keep whisking.

As soon as you see a bubble motion on the side of the sauce pan (it should take no more than 5 minutes) just stop cooking. Your curd is ready.

Transfer the curd in a clean bowl.

Place the curd in the fridge until it is cold

Voila your curd is ready. You can keep it in the fridge for up to 5 days. You can also keep it in the freezer for up to 3 months in an air tight container.. Enjoy that zingy bity Curd .. i ll use it for cake but also for my Lemon & ginger meringue Pie
Notes
You can use it for cake such as roulade, layered cake  but also for my Lemon & ginger meringue Pie.
You can change the Lemon to lime too