Warning
: Attempt to read property "html" on bool in
/var/www/wp-content/plugins/blossom-recipe-maker/includes/class-blossom-recipe-hook-functions.php
on line
302
Warning
: Attempt to read property "thumbnail_url" on bool in
/var/www/wp-content/plugins/blossom-recipe-maker/includes/class-blossom-recipe-hook-functions.php
on line
303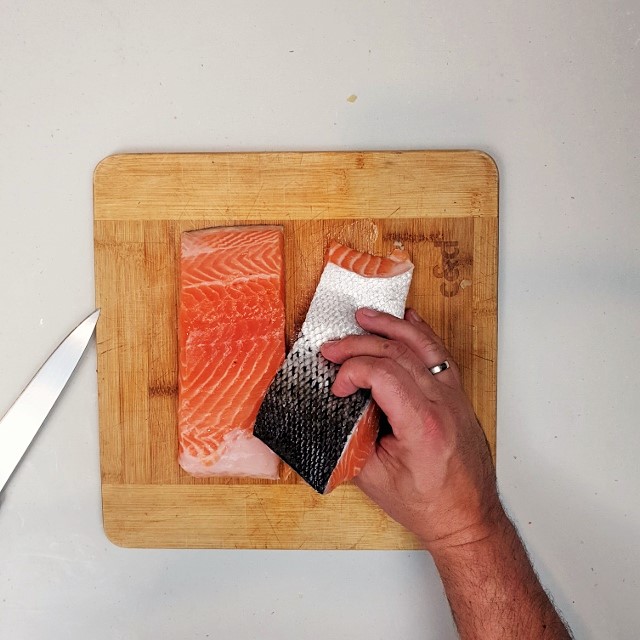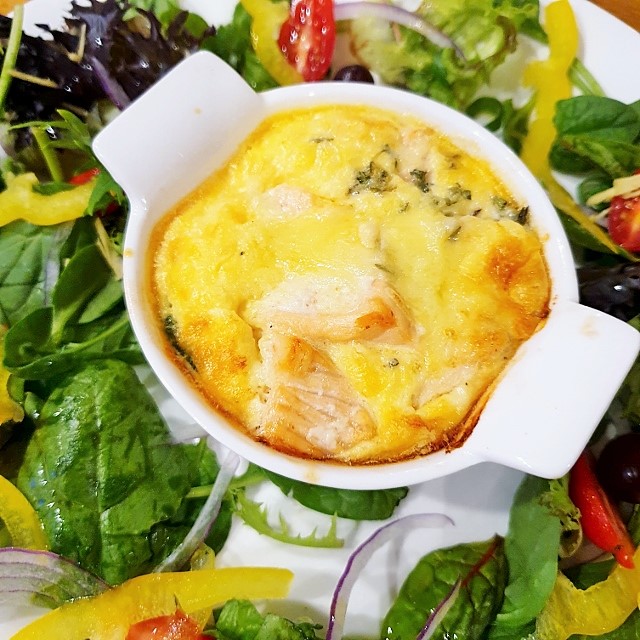 Yields:

4 Servings
Difficulty:

Easy
Prep Time:

35 Mins
Cook Time:

25 Mins
Total Time:

1 Hr
Happy New year everyone,
I wish you a great year ahead and all my best wishes to you and your family. Most importantly, I wish you a great and healthy year.
As most of us do, we let ourselves indulging all the good food around Christmas and new year. The roast Turkey, ham, gravy, potato gratin, pudding, pavlova, chocolate and the Champagne. Well whilst it is a festive time and we are having fun; we often neglect our food intake. Therefore, I have decided to kick start my little healthy journey with a nice and easy dish that will satisfy your tastebuds as well as your satiety and your carbohydrate intake. This dish has only around 520 calories per servings and all the goodies your body needs. By that I mean good source of protein, omega 3, and good fats intakes.
Let's get cooking and be healthy without the so called "superfood".
Adjust Servings
Fish

Vegetables

Quiche filling

Side salad "optional"
Mise en Place or prepation check list

A- Prepare 4 larges ramekins or tart dish of at least 10 cm diameter. if you do not have it, Do not panic use your regular quiche dish. As we do not use pastry here, we want to use a baking dish that will hold the liquids inside. In this recipe i am using 6 dishes as i meal prep for few weeks and keep some in the freezer. B- Pre-heat your oven at 170°C. C- Gather all your ingredients. D- As Usual i will Show you how to make this recipe in the fastest way possible.

Preparing the vegetables

Grab your leek and Take out the outer leaves and cut off the bottom roots of the Leeks. Contrary to many recipes i used most of the green part of the leek.

Cut your leek in sections of 5-6 cm and in halves.. this make it easier to slice. You can slice it across or against the grain it doesn't matter. Just try to slice them 3-4 mm thick as it cooked faster. I like precision cuts so here i have done a Julienne of leeks.

Using a colander, wash the leeks under cold water.. Leeks as a tendency to be very sandy.

Using a fry-pan heat up the olive oil.

Once the oil is hot, place the sliced leeks into it.

Cook the leek for 4 minutes without giving colour to them. This is called sweating the leek and it will make them soft.

Meanwhile, wash the Spinach leaves.

Once clean, add the spinach to the leeks and cook for another 4 minutes.

Meanwhile, peel your garlic.

Chopped your garlic and add it to the leek and spinach. Cook for another 2 minutes.

Add some salt to season.

Do the same with some pepper and taste it.

Once you are happy with the seasoning, Drain the vegetables in a colander over a bowl and let it cool down.

Prepare the Salmon fillets

This few coming steps applies if you do not have Skinned or skin off Salmon portions. Most of the time it is cheaper to buy skin on salmon and remove the skin yourself as it only takes 2 minutes.

Here are my salmon fillet skin on.. You can not bake the salmon skin in the quiche. It will make the quiche very bitter. Skin on salmon is really good if you Pan fry it... So here i remove it in few easy steps.

Secure the salmon fillet with on hand, preferably the hone you are not using to cut with. Hold the belly side firmly against the chopping board. With a shape knife gently incise the salmon flesh towards the skin without cutting it.

slice the the salmon to reach the skin, holding tight the salmon and place the knife parallel to the chopping board.

Keep sliding the knife against the skin, until the end of the Fillet.

Discard the skin.

Dice the salmon in 2-3 cm cubes. And repeat the process of removing the skin.

Voila your salmon is ready.

Putting the Quiche together

Prepare your dishes and place them a front of you. as i mention earlier you can do this in a large baking dish. I do not add fat to my dishes.

Separate equally your vegetables into each dishes.

Try to do the same with the diced salmon.

It should look like this.

Grab your branches of thyme.

With the help of a pair of scissors chopped the thyme into each dishes. You can use another herb such as basil or dill depending of your preferences.

In a clean bowl, crack your eggs.

Keep cracking them and watch out for shells.

Add your creme fraiche or sour cream.

Add some pepper

Add some salt.

Add the nutmeg.

Give it a vigorous mix.

It should look free of lump.

Add the milk.

Give it a good mix again

Alternatively, you could have put everything in a jug and use a stick blender. Pour the mixture " we call it the royal in french terminology"

Pour it equally into all the dishes.

Using a fine grater, microplane and already grated cheese.. grate the Romano or Parmesan.

Add the cheese into the dishes.

Place the dishes on a tray. Just in case it over spill it will save you to clean your oven. Bake at 170°c for 15 to 20 minuts depending of your dishes and oven.

Take of the oven when the mixture looks a little golden and set. And you are ready to eat a beautiful pastry less quiche.

As shown on the photo, i have added few mix leaves, capsicum, cherry tomato and grapes , a dash of olive oil for m side salad. Bon Appetit. Frenchy
Notes
If Salmon does not suit you, it is possible to replace it with any other fish of your liking. This also go for the vegetables, as you could put mushrooms instead of the spinach or asparagus instead the leek.