The curd, one of the most delicious items invented in pastry. It is a popular item often seen on a cover magazine all across the world. Why? Because it is simply delicious.
The curd is easy to make and it will take your sweet or desserts to another level. Often make out of butter and citrus fruits it helps pastry chef to balance a dessert that is to sweet and cut the sweetness through acidity.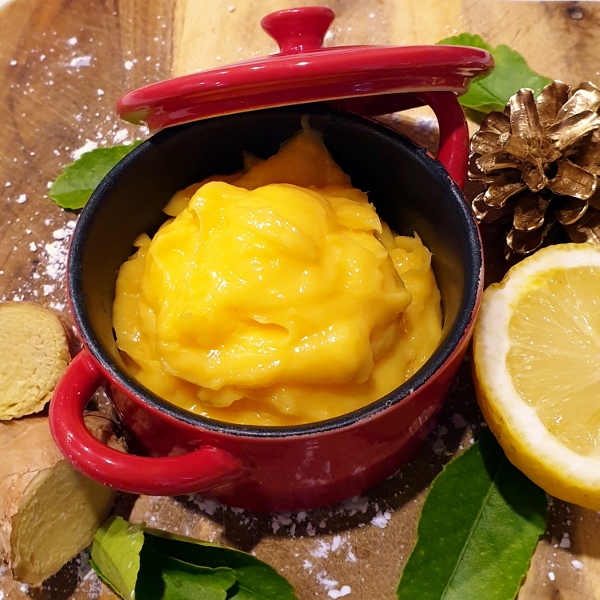 Being from France I was not expose to a "curd". It is not something that French pastry chef often used in cakes. Since I leave in Australia I came to learn about this beautiful filling and use it now for my latest creation the "Pavlobuche". More so, for my pie "Lemon and ginger meringue pie".
Why the Ginger? Don' t knock it till you try it. Here in Australia we have a growing influence of Asian cookery. Ginger has been known for a long time in many kitchens over the world and its medicinal benefits. This root spice up and give such a beautiful flavour to the curd that you will want to double dip your spoon once you try it.
Follow the link to access this beautiful recipe:
History of the curd:

The original "Lemon Curd" is English, dating back to the early 1800's. Surprising yes? Who knew they could cook 😊. The recipe back then was rather literal and not at all how we'd think of Lemon Curd these days — lemon acidulating cream to form curds then separated from the whey through a cheesecloth. As many recipes it was invented by mistake.

Then there was 'Lemon Cheese' which was used to make lemon tarts. Original recipes advise to 'rasp hard pieces of sugar', as it didn't come in grain form then, against the lemon's skin in order to remove the zest to extract essence and colour. We've come a long way since then with the invention of graters!

Nowadays, recipes call for the addition of eggs and butter, and it is considered more of a 'velvety custard' than a jam or jelly. Pastry chefs have refined the curd to make it appealing as well pleasing the sensation on your taste buds.
"Curds" are made from just about any fruit that can be juiced (orange, grapefruit, pineapple, mango, berries) but the most common curds are Lemon Lime, and Passion fruit.

Traditionally curds have been made for baking – fillings for tarts, pies, cakes, sponges, crumbles, slices, whipped with cream into a mousse, or folded into ice-cream..

You can also use curds over toast or scones, drizzle over frozen yoghurt or a bowl of creamy vanilla ice-cream. Simplify your baking by using in cakes, tarts, pies, steamed puddings, loaves and fruit slices. Add to cream cheese to make a delicious frosting for your muffins and cupcakes.
Bon Appetit
Frenchy