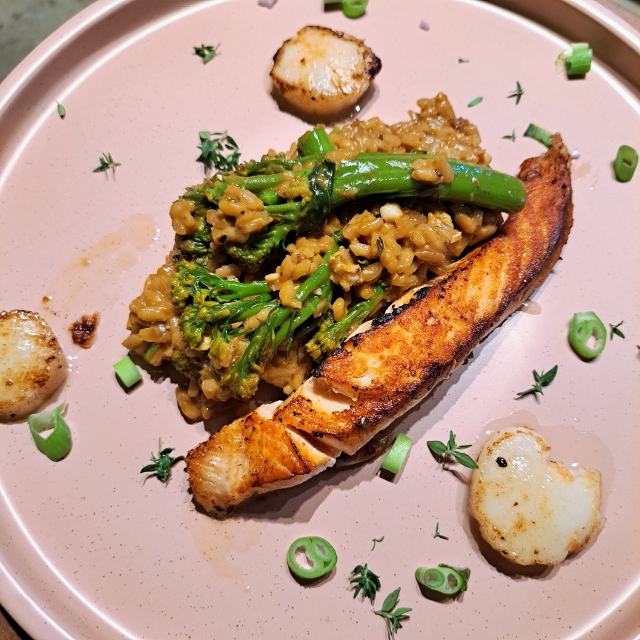 Yields:

4 Servings
Difficulty:

Easy
Prep Time:

15 Mins
Cook Time:

45 Mins
Total Time:

1 Hr
Hello Foodies,
I know, i know, it has been a long time between dishes…. "Mea culpa"… Life, work, cooking, catering, working on different project, renovating and  moving… all took its toll on me. I am not goingto say that i am back on track, but i will try to be more present and let you know what it is happening. Meanwhile, you can always follow some of my work on Instagram: Cookingwithfrenchy and LGcateringperth…
Risotto is such a beautiful dish that it is actually easy to cook if you follow simple step. It is nice, earthy, warm and such a beautiful dish to have all year round.
This recipe is inspired by my travels in Italy, Nonna from Turin and Sicili, as well as my personal touch. This seafood risotto, uses "nobles" produce. It is rich in texture, flavour and will warn your heart with so much satisfaction. I am using for this risotto rose wine, tomato paste, lobster stock, crab meat, scallops and salmon… and many other ingredients.
Lobster stock recipe https://cookingwithfrenchy.com/recipes/lobster-stock-a-great-base-for-sauces-and-soups/
Check out the list of ingredients, Substitute them if you wish. The technique i use here is pretty much the same for every risotto i cook.
Bon Appetit,
Frenchy
Gather and measure all your ingredients if it i how you like to proceed.. I like to go with the flow of a recipe. However, if you are not confident with cooking, My tip today is .. always read a recipe twice from start to finish. This will give you a better idea of the final product and steps that are to come. Peel and dice your red onion, Meanwile warm up your stock of choice. Clean your broccolini and spring onion.

Heat up the olive oil in a large sauce pan.

Start by cooking, "sauteeing" quickly the crab flesh. This will caremelsied the flesh and give a flavour to the pan. do it at high heat for 1 minute or 2.

Remove the cooked crab abd keep it aside.

Add the Arborio rice and stir it quickly in the hot oil. Keep stirring until all the grains of rice are coated with oil and start to look a little translucid. You shoul see the core of the grain looking like a white dot.

Add the chopped onions and stir at moderate heat, until the onions sweats a little.

Add the tomato paste and stir it for a minute.

Add the rose wine, if you prefer notusing alcohol , add some warm stock or water.

Stir it in until it nearly all disappear.

Add a 1/4 of your warm lobster stock.

Again on a moderate heat, keep striring until the stock nearly disappear.. This where the techniques of cooking risotto is important

Add another 1/4 of the stock and stir it in until the rice nearly absorb it all. This slow cookign process helps to make your risotto naturally "creamy". Repeat thisone more time

Once you Added your third 1/4 of your lobster stock, add the broccolini to the rice. The stock will help cook your brocolini and save you washing too many dishes.

Keep stirring,

Add your chopped spring onions.

Add the remainig of the stock and keep stirring.

Season a little with salt and pepper.

Whilst you are melting some butter in the frying pan, add the crab meat (you previously cooked) in to the rice. Add the cream, butter and parmesan cheese too.

Keep stiring gently the rice. Cooked your salmon fillet for 2 to 3 minutes on each side. Let it rest in a warm spot.

Using the same frying pan and on high heat, cooked the scallops for 1 minutes on each side. and give a gentle stir to your risotto. It should be ready by now. Check it and try it. Check the seasoning and adjust. Be sure that the rice is cooked but not "mushy" or pasty. The rice should be nice, a little soft with a resistance and keep ing it shape. It should not be al dente or crunchy.

1 minute on each side on high heat

Plating

Plating is entirely up to you. Remember the more elements you put on the plate, the longer it takes. Tip: Warm up your plates in the oven or even the microwave. I put my salmon slightly to the side , off center

Place the risotto by the salmon side

Top the risotto with the broccolini

Add the scallops, 3 per person is nice

A bit more green for presentation

Cooked salmon that is flaky, moist and a little pink inside.. Not sashimi style. I hope you enjoy it as much as i did. Try it. Share it Let me know what you think on YouTube https://www.youtube.com/channel/UCe7XnDC4cRnhSljsfJIFqKg Bon Appetit, Frenchy
Notes
If your risotto feels a little firm, add a little more stock and cook it a little longer.
Add some extra Parmesan cheese for serving or on the side.
This dish is great served with a Chardonnay