Warning
: Attempt to read property "html" on bool in
/var/www/wp-content/plugins/blossom-recipe-maker/includes/class-blossom-recipe-hook-functions.php
on line
302
Warning
: Attempt to read property "thumbnail_url" on bool in
/var/www/wp-content/plugins/blossom-recipe-maker/includes/class-blossom-recipe-hook-functions.php
on line
303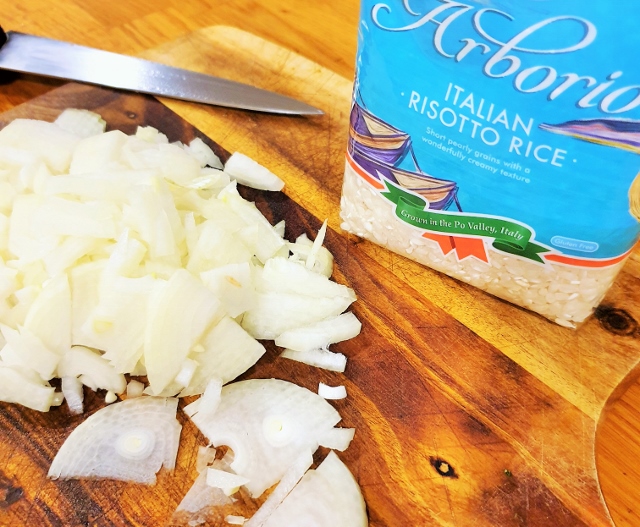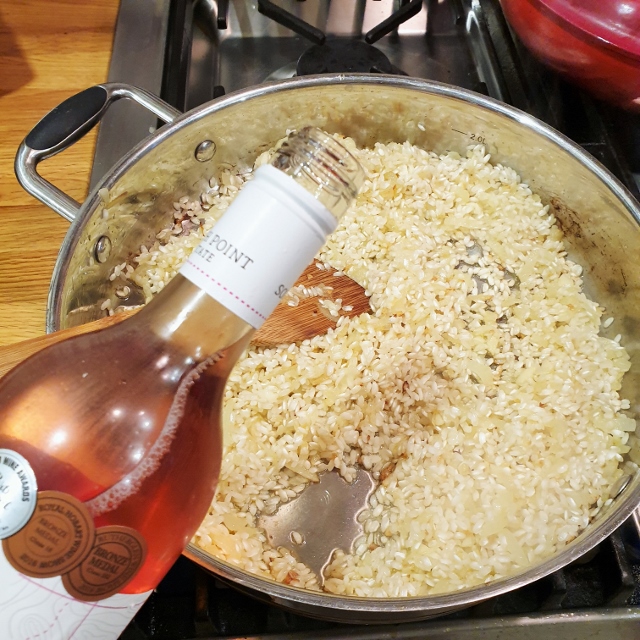 Yields:

4 Servings
Difficulty:

Easy
Prep Time:

15 Mins
Cook Time:

25 Mins
Total Time:

40 Mins
Hello Foodies,
Here is one of my many recipes of "Risotto" to come. I am sharing this one first as it is easy to make, using staple ingredients and good to feed the family during these hard times. As the world is under threat and everyone is struggling to access food items, i have decided to create a recipe with what i found in my fridge, freezer and pantry.
Prepare all your ingredients. Peel the onions, garlic cloves and carrots. Wash the asparagus Slice the onions

Slice the garlic

in a large sauce pan heat up the olive oil

Once the olive oil is hot (you can check by throwing on piece of onion and see if it sizzle) add the sliced onion. cook for 3 minutes until they sweat (get soft)

Then add your rice (i like to quickly rinse it ti get the dust of it)

Stir the rice and onion in the oil together for about 3 to 4 minutes. It is important that every single grain of rice is coated with the oil.

Here is what we call the rice pearling when you start to see the white core of the grain.

Add your sliced or chopped garlic and stir it in for a minute. Do not burn it.

Your pan is still on a high heat and you can add your wine of choice. All i had is rose so here goes the rose. i could have used a white or even a red. I generally do not cook with expensive wines.

Stir in until everything is absorbed.

I a using convenient stock as it is easy to store and quick to use. However i do warm up the stock prior adding it to the risotto.

I add half the stock and reduce the heat to medium and stir in the rice until all the stock is nearly absorb.

once the stock is nearly absorb, i add my chopped carrots about 2 cm cubes

I stir in the carrots and add the thyme and bay leaves and let it cook for another 5 minutes at medium heat and stir in to make sure it does not stick to the bottom of the pan.

Meanwhile, i quickly give a bit of colour to my asparagus. In a frying pan with a bit of butter i cook my chopped asparagus for 2 minutes on a high heat.

Then , i add the asparagus to the rice.

I Keep stirring and add the remaining of the stock and keep cooking until full absorption of the stock by the rice.

If you do have some in store, add a bit of basil pesto.

Taste your rice, it should feel a little "al dente" but not crunchy. It also should not feel like a soup. If too crunchy add a little more stock until it feels softer... If it feels to soft, you know next time to put less stock. Risotto right now should looks creamy by the slow release of the starch. You could season it and serve it as it is To give your risotto a creamier texture and look, you can add a big knob of butter or cream and stir it in.

To finish your Risotto add a little bit of grated Parmesan or Parmagiano cheese. Check the seasoning Serve it hot Manga Manga Bon Appetit
Notes
You can add any vegetables you like
you can omit the wine for more stock or water.
You can not add cream or dairy either.
This is just a basic risotto that i made with my staples items.